Yamaha Banshee Warrior & Raptor Front Wheels With New SandStar Tires 21 x 7 -10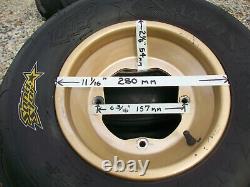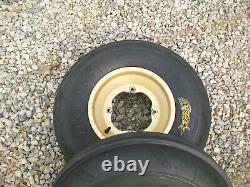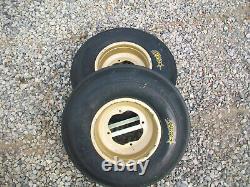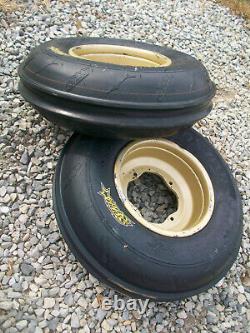 Brand new SandStar front sand tires & used aluminum wheels for Yamaha Banshee, 87-05 YFZ350, Warrior 87-05 YFM350X, Raptor 04-12 YFM350 & YFZ450 04-12. Bolt pattern measurements are shown in the pictures.
There is enough room on the wheels to drill almost any bolt pattern you might need. The tires have never been used. I'll be happy to try to answer any questions someone may have.
NOTE: This addition came from a very good friend who knows a lot more about them than I do. Bobby, those wheels should be 4 x 156 bolt pattern on the front, and 4 x 115 on the rear. All four will fit onto a Yamaha: Banshee 87-06 (yfz350), Warrior 87-05 (yfm350x), Raptor 04-12 (yfm350), and YFZ450 04-12.