Yamaha Banshee 2 Front And 1 Rear Custom Brake Line Kit Coremoto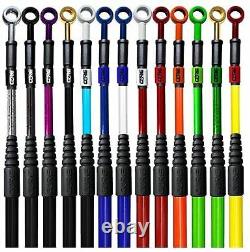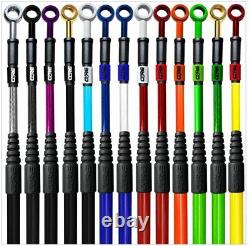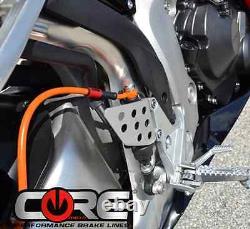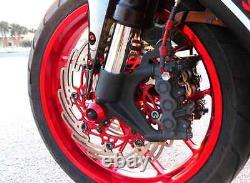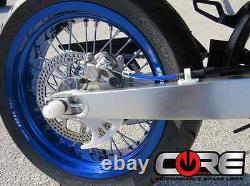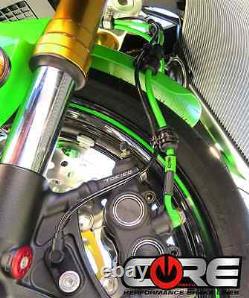 YAMAHA BANSHEE 2 FRONT AND 1 REAR CUSTOM BRAKE LINE KIT COREMOTO. WHY CHOOSE CORE MOTO LINES?
Core Moto SS Performance brake lines are made in the USA using the highest quality materials and machinery available. We strive to make the best quality product on the market and are constantly looking for ways to make our brake lines better. The lever of quality materials and processes used to make each Core Moto brake or cloth line is felt directly by the person operating the motorcycle they were installed on. Core Moto brake lines are the most customizable brake lines on the market, ensuring you have a truly unique product that will stand out from the rest.
WHY CHOOSE STAINLESS OVER RUBBER HOSES? OEM rubber hoses expand and swell, especially under extreme braking conditions.
This expansion results in what is often described as a spongy feel or brake fade. Most motorcycle manufacturers recommend that your OEM rubber brake line be replaced every 4 years when used under normal conditions.
Core Moto Performance lines are good for the life of the motorcycle. Core Moto lines do not expand under pressure or fatigue. All braking input is transmitted from the master cylinder directly to the callipers, giving you complete control, feel and feedback from the final point in the braking system. Total brake response and performance is improved with this often overlooked yet simple modification. Core Moto Brake line retail packaging. Core Moto Brake lines with proper lengths, banjo bend angles, mounting grommets and colours according to your model and order details. New low profile stainless shell banjo bolts with lightened heads. Installation and brake bleeding guide. HIGH PERFORMANCE BRAKING IS NOT JUST FOR THE RACE TRACK! GET MORE FROM YOUR BRAKE SYSTEM WITH CORE MOTO PERFORMANCE BRAKE LINES.