MacDaddy Racing Billet Aluminum Intake Kit for Yamaha Banshee 26-30mm Carbs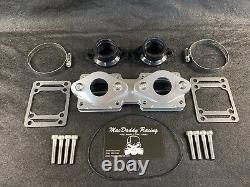 Yamaha Banshee Intake Manifold Kit (FOR 28-30mm CARBS) from MacDaddy Racing. This kit comes with intake manifold, rubber joints, clamps, 4 gaskets, seals, and 8 bolts. The intake itself is made from high quality billet aluminum.
Which looks great on your engine; and with your choice of 3 sizes, allows you to change the size of your carburetor. Whether you ride in the trails or at the drag strip, this Yamaha Banshee Intake Manifold kit will surely suit your needs. Without a doubt, MacDaddy Racing has the highest quality parts for serious riders and builders who are looking to make more power. These parts will fit any year Yamaha Banshee: 1987, 1988, 1989, 1990, 1991, 1992, 1993, 1994, 1995, 1996, 1997, 1998, 1999, 2000, 2001, 2002, 2003, 2004, 2005, 2006.